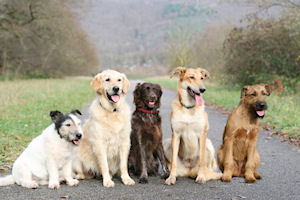 FETCH! is an organization dedicated to providing dog guardians of Island County with areas where they are free to exercise their canine friends off-leash without disturbing others. FETCH! is supported by its members, donations from friends, and volunteers. Join today and become a member of the FETCH! family!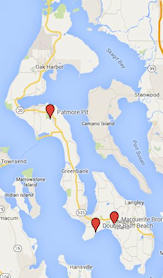 FETCH!, in partnership with the Island County Parks Department, helps maintain three off-leash parks on Whidbey Island: Double Bluff Beach, Marguerite Brons Memorial Park, and Patmore Pit. For information and directions to the various parks, just click on the map at the right to open a new window with a Google map of the parks.
You can learn more about our organization and it's history, and how you can become a part of it, at our About FETCH! page. To find out more about the benefits of off-leash parks for dogs, dog guardians, and the wider community, see Why Parks? For the latest news about FETCH! and the parks, see Latest News. We've also collected a number of links to local dog-related organizations and businesses on our Cool Links page. For more detailed information about an individual park, just click the button to the left with the park name.
It's easy to donate to FETCH! Just click the Donate button at the bottom left side of any page to find out about the 3 easy ways to help FETCH!, a 501(c)3 non-profit organization, with your tax deductible contribution. We look forward to seeing you at the park!
Important Notice on FETCH! Support for Oak Harbor off-leash areas
Five areas on Whidbey Island are officially designated in Island County Code section 6.08.090 as off-leash areas. Three of these - Double Bluff beach, Marguerite Brons Memorial Park, and Patmore Pit - are located in unincorporated areas of central and south Whidbey Island, and are owned and operated by Island County. The other two are located in Oak Harbor. Clover Valley Dog Park is owned and operated by the North Whidbey Parks and Recreation District (NWPRD), and the Oak Harbor Dog Park on NE 21st Ct is owned and operated by the city of Oak Harbor (COH).
In 2002, Island County entered into an interlocal agreement with NWPRD and COH, agreeing to maintain and operate those 2 parks for a term of 10 years. When that agreement expired, the county chose not to renew it, and so these parks have been solely owned and operated by NWPRD and COH since 2012.
FETCH! has remained an Adopt-a-Park partner with the county, NWPRD, and COH throughout this time. However, because the two parks in Oak Harbor are widely separated from the other parks on Whidbey Island due to the island geography, the communities of interest for these parks are very different. The FETCH! board of directors believes that these parks will be better served and maintained by a local group of park users, who are constituents of NWPRD and COH, who take responsibility for adopting these parks in their own community, whose taxes pay for the services of these local government bodies, and who can work directly with the officials who were elected to serve them.
FETCH! organized a meeting in Oak Harbor in March of 2014 to discuss this, and there was general agreement with this idea from the Oak Harbor park users in attendance. The plan going forward from that meeting was for the users present to organize a series of work parties over the summer of 2014, in order to generate interest and a list of dedicated volunteers.
With all these facts in mind, the FETCH! board of directors voted unanimously on April 16, 2015, to terminate its Adopt-a-Park agreement with NWPRD and COH, and to cease to support or maintain any of the facilities and supplies at the Clover Valley Dog Park or Oak Harbor Dog Park.
However, for a period of one year ending on April 30, 2016, FETCH will accept requests, proposed by the NWPRD and COH on behalf of local park users, for funding for specific projects, equipment, or supplies. The FETCH! Board of Directors will consider these requests on a case-by-case basis and may approve or reject such requests at its own discretion. This is intended to provide time for local groups of park users to organize and be able to take responsibility for adopting these parks if they so choose.